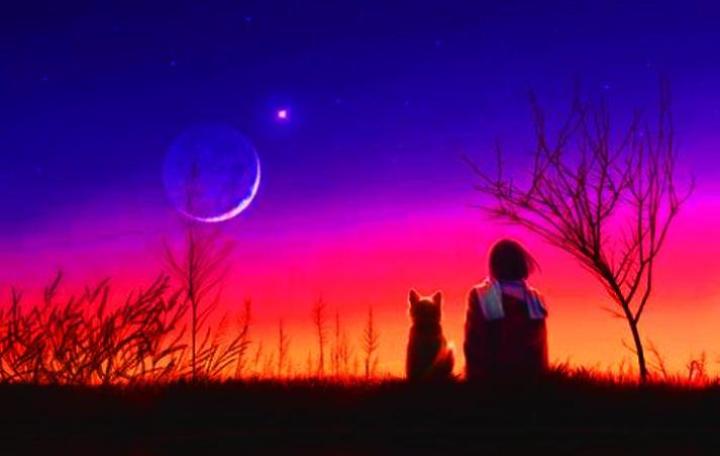 Go n-éirí an bóthar leat
Go raibh an ghaoth go brách ag do chúl
Go lonraí an ghrian go te ar d'aghaidh
Go dtite an bháisteach go mín ar do pháirceanna
Agus go mbuailimid le chéile arís,
Go gcoinní Dia i mbos A láimhe thú.

May the road rise to meet you
May the wind be always at your back
May the sun shine warm upon your face,
The rains fall soft upon your fields
And until we meet again
May God hold you in the hollow of His hand.
Enter subhead content here
 
 
 

Uisgeachan Ruith
le Peadar Morgan

a-nthist tha an dubhar gruamach dubh

air bùrn glan ùr a bhreith

's allt eile brùchdadh

à tobraichean a' chridhe.

is luath tha ar n-uisgeachan a' fàs

luasganach beò 's iad a' ruith.

nan cabhag, coma, cho bras

far bheanntan na h-inntinn.

sios le bruathach gorm gaoil

gu ruige comar air ghoil

dà thuil a' suaineadh

sa bheil an t-iasg smaoine leum.

ach am feum iad tighinn gu rnaghair uaine

's an abhainn a' iùbadh 's a' lasachadh?

am feum iad tighinn gu h-inbhir dorcha

's cladach an dòchais fhàgaii?

am measg shruthan a' chuain

far nach bi ach ciùineas no stoirm

's far an dubhaich na sgòthan a-rithist.

 
 
 
 
Enter subhead content here

Gaelic Language

Irish is one of the many languages spoken across Europe and as far east as India, that trace their descent from Indo-European, a hypothetical ancestor-language thought to have been spoken more than 4,500 years ago. Irish belongs to the Celtic branch of the Indo-European family. It and three other members of this branch -- Scottish Gaelic, Welsh, and Breton -- are today alive as community languages.

The form of Celtic that was to become Irish was brought to Ireland by the invading Gaels -- about 300 B.C., according to some scholars. Later it spread to Scotland and the Isle of Man. Scottish Gaelic and Manx gradually separated from Irish (and, more slowly, from each other), and they can be thought of as distinct languages from the seventeenth century onwards. The term "Gaelic" may be used to denote all three.

It appears that the early Irish learned the art of writing at the time of their conversion to Christianity, in the fifth century. After that, the language can be seen to go through four stages of continuous historical development, as far as its written form is concerned: Old Irish (approximately A.D. 600-900), Middle Irish (c. 900-1200), Early Modern Irish (c. 1200-1650), and Modern Irish. Throughout this development Irish borrowed words from other languages it came into contact with, pre-eminently from Latin, from Norse, from Anglo-Norman (a dialect of French), and from English. From the earliest times, Irish has been cultivated for literature and learning. It in fact possesses one of the oldest literatures in Europe.

Enter subhead content here

Enter subhead content here
 
 
 

Running Waters
by Peter Morgan

Again the black and lowenng darkness

has born fresh clear water

as another burn bursts

from the wells of the heart.

Quick are our waters to swell

alive and tumbling as they flow

hurried carefree impulsive

off the mountains of the mind

Down a lush brae of love,

to a boiling confluence

two floods entwining

in which the thought-fish leaps.

But must they come to a plain of green

where the river weaves and wanes?

Must they come to a dark estuary

and leave the shore of hope?

Lost and separated out among

the ocean's streams

where is only calm or storm

and where the clouds darken again.

 
 
 
 
Enter subhead content here

Enter subhead content here

Scottish Gaelic

Gaelic was brought to Scotland by colonists from Ireland towards the end of the Roman Empire in Britain. By 500 A.D. these Gaels had established their Kingdom of Dàl Riada, centered on what is now Argyll in southwest Scotland; in Gaelic, Earra Ghàidheal, "the coastland of the Gael." To Roman writers they were Scotti -- Scotia at this time denoted Ireland -- although these names cannot be traced with certainty to an origin in Gaelic itself. But from these Latin forms came the name Scotland. In Gaelic, however, the country is Alba, as in Irish Gaelic, and Alban in Welsh.

By the eleventh century, Gaelic was at its highest point in Scotland and known to some degree virtually throughout the country. A Gaelic-speaking court, supported by the Columban church, gave patronage to makers of literature at the highest levels of society.

With the Anglicization of the dynasty late in that century, what was been described as a shift to an English way of life was deliberately planned and, as far as possible, implemented. The court itself became English and Norman-French in Speech and the northern English dialect (Inglis) was fostered as the official language. The loss of status that these changes entailed for Gaelic had a profound and permanent effect.

In the mid-twelfth century the Lordship of the Isles, founded in part on the Norse kingdom of the Western and Southern Isles, but drawing also on the traditions of a former, wider Gaelic territory, emerged as a quasi-independent state. Until the Lordship was destroyed by the central authorities of Scotland in the late fifteenth century, Gaelic culture and learning continued to flourish. In the same twelfth century a reorganized literary order, whose main centers were in Ireland, was codifying Gaelic to produce an elegant formal register of the language, which we call Classical Gaelic. It was common to the learned classes of Ireland and Scotland and taught to the children of the aristocracy. It lasted in Scotland until the eighteenth century.

Gaelic as a living language is now largely confined to north-western and island communities But Gaelic speakers of local dialects are still to be found here and there throughout the Highlands (a' Ghaidhealtachd). There are, besides, sizeable communities in the cities, particularly in Glasgow. A number of organizations are active in promoting the Language. The oldest is An Comunn Gaidhealach, founded at the end of the nineteenth century. In the last few years, the Gaelic College in Skye (at Sabhal Mòr Ostaig), Comunn na Gàidhlig (CNAG) and Comann Luchd Ionnsachaidh (CLI) have all been established with the purpose of reviving the fortunes of the language.

(From Scottish Gaelic, by Roibeard O Maolalaigh and Iain MacAonghuis, Hugo Language Books Ltd., 1996)

Enter subhead content here
 
 
 

Tri shaghas fear go dteipeann

ortha bean do thuisgint, --

fir oga, fir aosda, agus fir mheadhon-aosda.

Three kinds of men who fail to

understand woman,

young men, old men, and middle-aged men.

 
 
 
 
I know, I know!

I never seem to shut up!

Blame it on the Blarney Stone I kissed when I was a kid.

"Blarney is celebrated the world over for a stone on the parapet

that is said to endow whoever kisses it

with the eternal gift of eloquence (in Irish 'solabharthact') –

the 'Gift of the Gab'.

The origin of this custom is unknown,

though the word "blarney", meaning to placate with soft talk."

Gaelic Phrases for Friends and Foes:

| | |
| --- | --- |
| To hell with you | Go hifreann leat! |
| Go in the devil's house | Téigh i dtigh diabhail! |
| May the devil take you with him | Go mbeire an diabhal leis thú! |
| Your soul to the devil | D'anam don diabhal! |
| Your body to the devil | Do chorp don diabhal! |
| Go to the devil | Imigh sa diabhal! |
| Damnation on you | Damnú ort! |
| Scorching and burning on you | Loscadh is dó ort! |
| Smothering and drowning on you | Múchadh is bá ort! |
| A shroud on you | Marbhfháisc ort! |
| May the devil choke you | Go dtachta an diabhal thú! |
| May the cat eat you, and may the devil eat the cat! | Go n-ithe an cat thú, is go n-ithe an diabhal an cat! |

| | |
| --- | --- |
| May you have a thousand good things = Many thanks! | Go raibh míle maith agat! |
| My thousand loves | Mo mhíle grá |
| My fair darling | mo mhúirnín bán |
| My thousand treasures = darling | Mo mhíle stór |
| I love you | Tá grá agam duit |
| Your honey-mouth | Do bhéilín meala |
| My secret (love) | Mo rún |
| Happiness on you = Thank you! | Sonas ort! |

Useful Gaelic Phrases:

| | |
| --- | --- |
| Good Day | Dia duit! |
| How are you? | Conas tá; tú? |
| Good bye | Slán |
| Thank you | Go raibh maith agat. |
| I would like... | Ba mhaith liom.. |
| a cigarette | toitín |
| tea | tae |
| whisky | uisce beatha |
| beer | beoir |
| Where is the bathroom? | Cá bhfuil an seomra folctha ? |
| Kiss my arse | Póg ma thoin |
Useful Gaelic Phrase

for all of us Shrews: